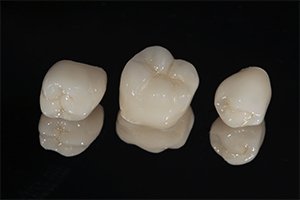 Damaged teeth do not only compromise your oral health, but they also negatively affect the appearance of your smile. When this happens, it decreases your self-confidence and your self-esteem. Thankfully, Salt Run Family Dentistry offers Dental Crowns!
Dental crowns are synthetic caps made from porcelain. Their purpose is to restore a tooth's function and aesthetics. Crowns are often needed in situations when tooth decay has severely advanced that a large portion of the tooth needs to be removed. Aside from that, crowns are also used to cover dental implants, attach bridges, or prevent a cracked tooth from worsening. Additionally, crowns are used for aesthetic purposes and are applied when a stained tooth needs restoration. Know more about dental crowns by reading on!
Why do I need dental crowns? 
Here are the following reasons where you'd need a dental crown:
Your cavity is too large to be filled

You have a missing tooth and a bridge is needed

You have a dental implant that needs to be covered

You have a cracked, worn down or weakened tooth

You've had a root canal treatment and a crown is required to protect the tooth

You need to replace a filling
How is a dental crown placed? 
There are several steps involved in placing a crown. Here are the steps your dentist must complete: 
Your dentist prepares your tooth by removing any decay and its outer portion so the crown will fit. If there is another structure needed to support the crown, your dentist may build up the core of the tooth.

Impressions are made to provide an exact model for the crown. 

A temporary crown will be given to you while you wait for the permanent crown to be ready; this will usually take less than two weeks. 

Once the model has been used to make your crown, your dentist will place it in your mouth and make adjustments if necessary. When you and your dentist are satisfied, your crown will be cemented in place.
How should dental crowns be cared for? 
Did you know that with proper care, a crown of good quality can last up to eight years or longer? Remember to floss around the area where the crown is to avoid plaque buildup. Address behaviors like jaw clenching or bruxism (teeth grinding) because they significantly shorten the life of the crown. Avoid eating brittle foods, ice, or hard candies since these can damage the crown. Also, make sure to visit your dentist regularly.
If you want to restore damaged teeth, Salt Run Family Dental offers Dental Crowns in St. Augustine, FL. We are located at 700 Anastasia Blvd, St. Augustine, FL 32080. Call us to schedule an appointment!