Orthodontics/ Braces – St. Augustine, FL
Say Hello to a Straighter Smile
Afraid you missed your opportunity to straighten your teeth as a child? As a matter of fact, today nearly a fourth of all orthodontic patients are adults. And while you might be reluctant to pursue traditional braces because of how noticeable they are, our team can readily provide clear aligners as a much more discreet option. If you have a mild to moderate case of crooked teeth or a misaligned bite, call Salt Run Family Dentistry today and ask about orthotonics and braces in St. Augustine, FL.
Why Choose Salt Run Family Dentistry for Orthodontics/Braces?
Treatments for Adults and Teenagers
Clear, Removable Alternative to Traditional Braces
Friendly Dentists and Staff
Invisalign® Clear Braces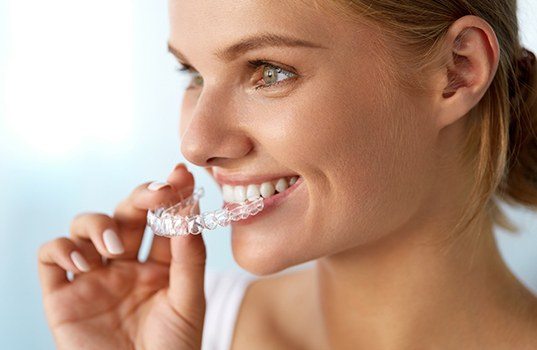 The aligners used during an Invisalign treatment are made from a see-through plastic that closely hugs the teeth, which is what makes them such an image-friendly option. You wear different sets of aligners throughout the process, switching to new ones every two weeks or so. It normally takes about 12 to 18 months to complete the treatment, and during this time you can continue to brush your teeth normally and eat all your favorite foods simply by removing your aligners.