Dentures – St. Augustine, FL
Enjoy a Complete Smile Once Again
Tooth loss impacts a lot more than just your appearance. Missing some or all your teeth can take a huge bite out of your quality of life, making it difficult to eat comfortably, speak clearly, and smile confidently. That's why at Salt Run Family Dental, we're committed to helping you enjoy a complete smile once again with custom-made solutions like dentures in St. Augustine! Thanks to modern dental technology and materials, this classic restoration is more comfortable and lifelike than ever! Read on to find out why dentures are still one of the most popular ways to replace missing teeth and give us a call today to schedule your consultation!
Why Choose Salt Run Family Dental For Dentures?
#1 Beautiful Materials for Incredibly Lifelike Results
#2 Team of Friendly, Highly Experienced Dentists
#3 100% Custom Treatment for Your Unique Smile
Who's a Good Candidate for Dentures?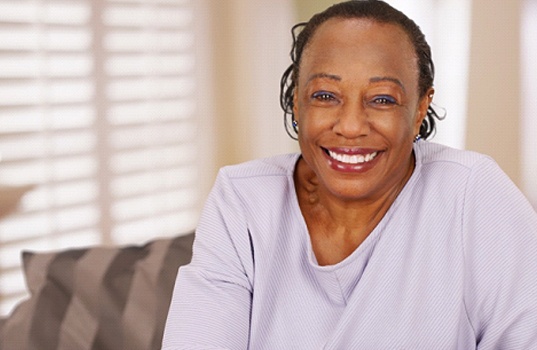 Dentures are an excellent option for those looking for a quick and easy solution for their moderate to severe tooth loss. To ensure you're a good candidate, we'll evaluate your oral health before fitting you with dentures. Once any issues like decayed teeth or gum disease have been treated, you'll be ready to start your journey towards your brand-new smile! If you're interested in implant dentures, you'll also need to have adequate jawbone density and good overall health.
What Types of Dentures Are Available?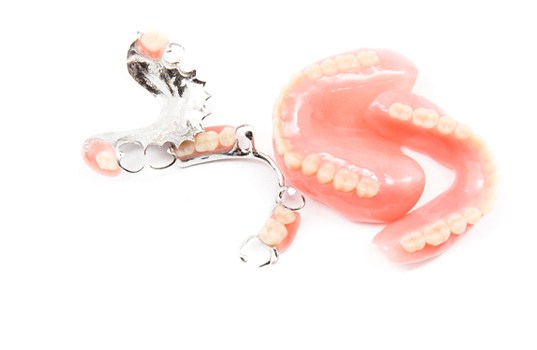 There are several different types of dentures to choose from to accommodate all types of different smiles. Depending on the extent of your tooth loss and your personal preferences, we may recommend:
Partials
Partial dentures (or partials) are a great choice for missing several teeth. This type of denture fits between your remaining healthy teeth like a puzzle piece for seamless results. Small wires and brackets are designed to discreetly wrap around your natural tooth structure for a secure fit.
Full Dentures
Full dentures can replace an entire arch of missing teeth all at once with a single restoration. For this method, an entire set of lifelike replacement teeth are set into a gum-colored acrylic base. This base is precisely crafted to fit snugly on top of your gums, which creates a strong natural suction to hold your new smile in place.
Implant Dentures
As an alternative to traditional removable dentures, you can anchor your new pearly whites into place with an implant denture. This type of denture is attached to four to six implant posts that are placed directly into your jawbone, where they fuse and create an incredibly sturdy and reliable foundation.
How Dentures Are Made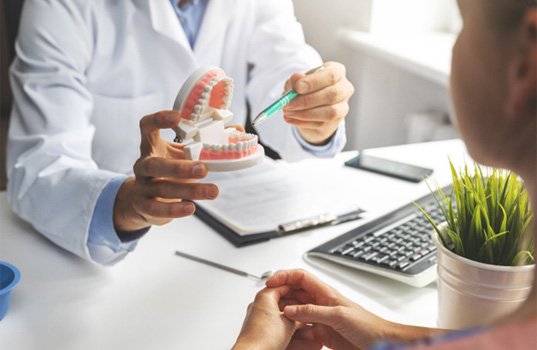 While dentures can effectively restore your full smile, it's also important to know what you should expect from the treatment. After all, you'll be wearing your new restorations for most of every day, so it's good to understand what kind of materials they'll be made out of. Whether you require partial, full, or immediate ones, each type shares a similar process for their construction. Keep reading to learn how dentures are made in St. Augustine.
What Are Dentures Made Of?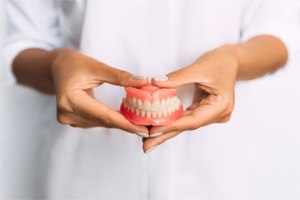 Dentures generally consist of two major components:
Artificial teeth – The prosthetic teeth will typically be made of resin or porcelain, which are both durable and can mimic the appearance of your natural enamel. Porcelain dentures are some of the most popular choices because they feel incredibly smooth and can go as far as 15 years or more if properly cared for.
Denture base – This is the foundation for artificial teeth that offers a stable structure to support them. While it matches with the rest of your gum tissue, the material can be fabricated from acrylic, nylon, resin, porcelain, or even metal. That said, most full dentures consist of acrylic due to the material's ability to blend seamlessly with your natural gum line.
The Denture Creation Process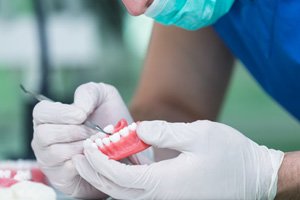 Getting dentures can take anywhere from several weeks to a few months. To start, your dentist will take impressions of your teeth to be used for creating a mold of your smile. This will allow your final restorations to be constructed in the correct shape and size. The mold will then be sent to a dental lab for fabrication. The prosthetic teeth will be made of acrylic resin (or porcelain) and placed into a wax replica of your gum line that was previously shaped by a technician using a special device. Once the mock-up dentures are made, they'll be sent to us for approval before we send them back to the lab for the final portion of the process.
A technician will then boil the dentures to remove the wax before being placed in a flask and maintained with plaster. Small holes will be created in the artificial teeth so that they can attach to the gum-colored base. Once the dentures are trimmed, cut, and formed correctly, they'll come back to us. We'll call you back into our office to have them fitted. After making any final adjustments and confirming that you're satisfied with the results, you can feel free to show off and enjoy your full smile again!
Adjusting to Your New Dentures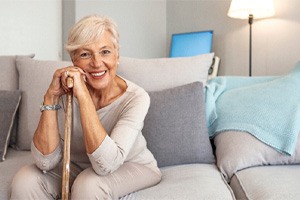 It's normal to feel some mild discomfort for several days when first wearing your dentures. This can be due to your gums and mouth having to get accustomed to eating and speaking with your new pearly whites. Thankfully, your mouth should adjust fairly easily to them, and your dentures will feel much more natural over time. Here are several tips to help you speed up this recovery and adjustment process:
Exercising your facial muscles
Keeping a soft food diet
Using denture adhesive to support your restorations
What Are the Benefits of Dentures?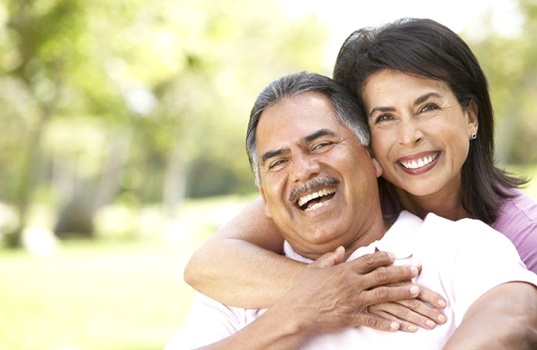 Dentures remain as one of the most popular methods of tooth replacement, and it's easy to see why! These classic restorations offer benefits like:
Easy, fast results that can last for many years to come.
Beautiful, lifelike appearance thanks to high-quality materials.
Restored ability to eat a nutritious, varied diet.
Filled out facial appearance and more youthful look.
Cost-effective solution for tooth loss.
Understanding the Cost of Dentures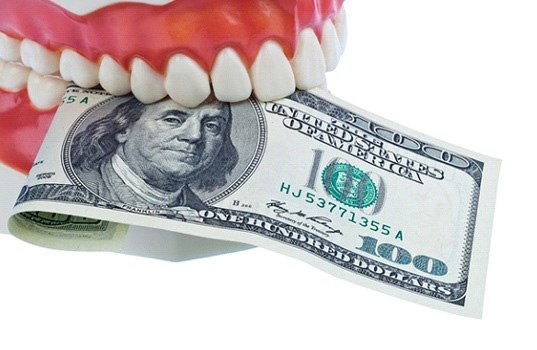 You don't need to live with the challenges of tooth loss because you're worried about the cost of dentures in St. Augustine. We offer the cost-effective solutions you need to revamp your smile and self-esteem without breaking the bank. Although there isn't a set fee for dentures, we'll create a personalized plan that meets your needs and budget for high-quality, natural-looking replacement teeth.
Factors that Affect the Cost of Dentures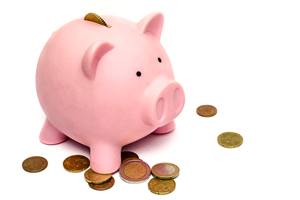 Every patient's needs are unique, which is why there isn't a flat fee for dentures in St. Augustine. We don't believe in cookie-cutter treatment plans because we want to ensure you're completely satisfied with your new teeth. After performing an initial consultation to examine your smile and learn more about your goals, we'll provide you with an estimate and discuss the costs, which can include:
Preparatory work, like periodontal therapy or tooth extractions.
Number of arches being treated
Materials used
Type of denture

Although everyone likes to save money, you shouldn't pinchpennies when investing in dentures. While you'll find many discounted materials, you'll pay the price in terms of comfort, durability, and aesthetics. We'll help you choose the best materials to ensure your new teeth closely look and feel natural.
Are Implant Dentures More Expensive?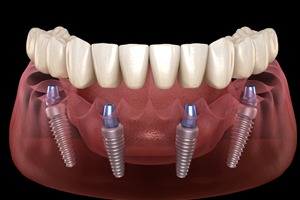 Yes, dental implants are initially more expensive than traditional dentures but for good reason. Titanium posts are surgically inserted into the jawbone to anchor your denture in place. With the posts serving as roots, they will keep your jawbone strong to improve your oral health to reduce your long-term costs for care. Not to mention, you will never have to worry about slipping or irritation again because an implant denture is a nearly perfect recreation of your real smile. Best of all, dental implants can last for decades, so you'll save money down the road.
Does Dental Insurance Cover Dentures?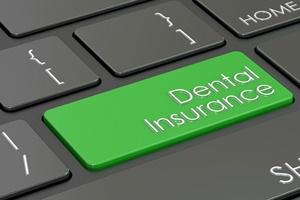 Every dental insurance policy differs, but most plans offer coverage for dentures. After reaching your annual deductible, you can use your benefits to offset the amount you need to pay out-of-pocket. The amount covered varies depending on your specific policy, which is usually around 50% to 80%. We will work on your behalf with your dental insurance to maximize your benefits to keep your dentures affordable.
Other Options for Making Dentures Affordable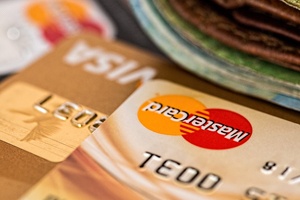 We don't want finances standing in the way of replacing your missing teeth. Your denture dentist in St. Augustine offers several solutions to pay for your treatment. Besides using your dental insurance, we also accept:
Traditional Payment Methods: We accept cash, check, and most major credit cards.
CareCredit: Based on credit approval, you're given the funds you need, which you'll repay using a plan that accommodates your budget.
Dental Implant Payment Plan: We accept monthly payment options for single dental implants.
We are transparent about our fees, so you'll know exactly what you'll need to pay before committing to a treatment. Rest assured; you won't be caught off guard by any hidden expenses for a stress-free journey to a complete smile.
Denture Aftercare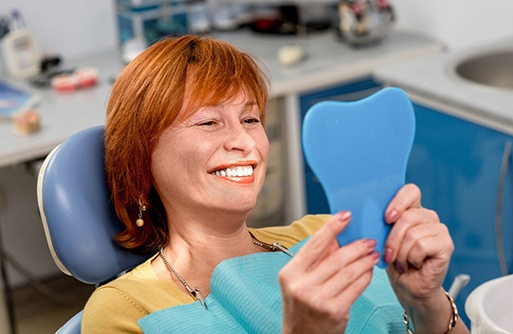 When you first get dentures, it's easy to think your oral troubles are over. The new teeth, after all, are artificial and won't suffer decay or cavities. However, you'll still require dental care in the future. Dentures won't function without regular maintenance and good oral health. So, it's crucial that you visit your dentist often and practice solid oral habits. Luckily, Salt Run Family Dentistry can help you with caring for dentures. To learn more, keep reading or call us for the details.
Removeable Dentures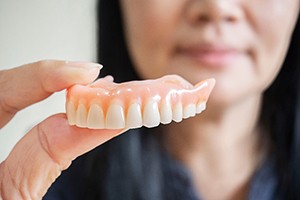 Remove After Eating
Firstly, remember to remove and rinse your denture after meals. Like regular teeth, prosthetic ones collect food debris and bacteria over time. Therefore, post-meal rinses will keep this gunk from building up too much.
That said, don't use hot water for the rinses. Heat can warp denture material and cause the restorations to fit poorly. Should the latter scenario happen, the dentures won't work well and may need replacement.
Clean Your Restoration
At least once per day, remove your dentures to clean them. You'll raise your risk of oral health problems if you don't.
It's best to use a soft-bristled toothbrush and soap for this cleaning. Standard toothpaste isn't good for dentures, as its abrasiveness can damage the restorations. If it's available, however, you can substitute denture cleanser for the soap.
If you don't wear the dentures right after cleaning, try placing them in a container of cleansing solution. That way, they won't dry out or lose shape. Rinse the dentures afterward, though, since the cleanser isn't intended to be in the mouth.
Keep Your Dentures Safe
Since dentures are fragile, you'll need to keep them safe. They could easily break otherwise.
One option is to keep a towel handy during cleaning. Placing the item beneath your dentures will cushion them in case of a fall.
Another method is to store dentures away from kids or pets. Those two groups, naturally, could find the restorations and damage them.
Remove Dentures When You Sleep
When you go to bed, store your dentures in a glass of soaking solution. Sleeping with them in your mouth leads to oral health issues.
You see, wearing dentures normally restricts the circulation in your gums. If you sleep with them overnight, that restriction will further lead to soft tissue irritation. You don't want red and sensitive gums, right?
Besides, using these prosthetics for too long is unsanitary. Sleeping with dentures, you see, is associated with a higher risk of pneumonia and gum or tongue plaque.
Notice Changes
When adjusting to your dentures, watch for changes in them or your mouth. Not doing so could lead to untreated issues in your prosthetics.
In particular, contact your dentist at once if the dentures fit poorly. Leaving the restorations alone could cause mouth sores or gum irritation. A dental provider, meanwhile, could refit, reline, or replace them before such things happen.
Dentures FAQs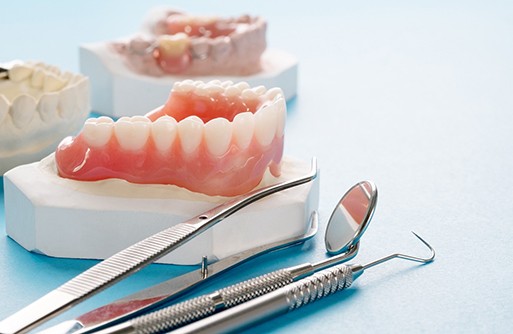 Reading through the above information can give you valuable insight into the types of dentures in St. Augustine, who is a candidate, and the benefits of this smile-rebuilding service. If you are ready to schedule your initial consultation, then don't hesitate to get in touch with us so we can help you take the next step toward your new and improved smile. However, if you have a few questions you'd like answered first, that's okay too! That's why we've responded to some of the most frequently asked questions we hear from patients below.
Is It Hard to Talk with Dentures?
When you first get your dentures, it's natural to experience a bit of a learning curve. Fortunately, you can speed up the process by reading aloud and practicing the more difficult words (like "sixty") repeatedly. It is also important to be patient and focus on speaking slowly at first. As you develop your proficiency, you'll be able to speak faster without compromising clarity. Lastly, make sure to bite down and swallow before you begin talking, which will ensure your dentures are in the proper position and excess saliva doesn't muddle your speech.
Will It Hurt to Get Dentures?
If you are getting a few teeth extracted beforehand, then you may experience some soreness in the days following your procedure. Fortunately, getting plenty of rest, placing a cold compress against the outside of your cheek, and taking your prescribed pain medication as directed will help keep you comfortable. After you've healed completely, you'll be given your dentures. Some minor irritation is common, but it typically subsides within a few months. If the pain persists after that, then make sure to get in touch. That way, we can see if there is an underlying oral health issue that needs to be addressed.
What Can't You Eat with Dentures?
Although dentures are crafted from incredibly durable materials, certain foods can pull and tug at them. Therefore, it's a good idea to stay away from gummy candies, peanut butter, and gum. Hard items, like ice, popcorn, and shelled nuts are also not recommended. Instead, try sticking to soft, but equally as delicious, foods, like mashed potatoes, scrambled eggs, and oatmeal.
How Should I Care for My Dentures?
Like your natural teeth, your dentures require some maintenance. Some of the most important best practices to follow include brushing and flossing your natural teeth daily. You should also prioritize your six-month dental checkups and cleanings, which will help keep your oral health in pristine condition. As for the dentures themselves, you should soak them daily in a special cleaning solution and brush them regularly with a soft-bristled toothbrush. Adjustment appointments are also necessary to ensure they continue to fit snugly against your gums throughout the years.