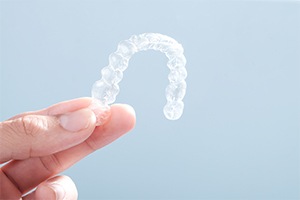 Whether you believe in new year resolutions or not, it is best to make a change for the better this 2020. If you think that your current oral care practice is enough, think again! Without the attention of dental professionals, it is possible for you to have an unidentified dental problem. For instance, have you always been conscious of how some of your teeth appear crooked? If that is the case, regular oral care at home is not enough to guarantee that these twisted teeth are adequately cleaned.
If you are striving to look and feel better this new year, it may be the best time to eliminate these teeth imperfections and aim for a straighter smile. At Salt Run Family Dentistry, we can make this possible with the help of Invisalign. Curious to know why more and more people are taking advantage of this particular orthodontic treatment? Continue reading below!
Invisalign is an alternative to traditional braces that do not utilize metal brackets and wires. Instead, it makes use of a series of clear, removable plastic aligners to guide the teeth to their proper places. Some of the reasons why many people prefer Invisalign over conventional orthodontic treatment are:
You can keep the treatment to yourself
The Invisalign system is ideal for people who have been delaying orthodontic treatment due to the thought of wearing a mouthful of metal. The clear oral appliance makes it possible for patients to straighten their teeth discreetly. Most people won't even notice the orthodontic appliance unless told by the wearer themselves.
Offers easy progress
During a patient's journey to straighter teeth, they won't need to see the dentist frequently for adjustments. Instead, they are advised beforehand to replace the aligners every week or so. By replacing the trays as recommended by the dentist, patients can see that they are one step closer to achieving their goal. But they should still take note of appointments advised by dentists since they are necessary to track the treatment progress and offer any assistance with the treatment.
Get healthier teeth
Aside from the main goal of straightening one's smile by correcting the alignment of the jaw and teeth, one of the biggest advantages the treatment offers is better oral health. Crooked teeth can trap food, and they are also trickier to clean; therefore, a person's risk of developing cavities is high. On the other hand, straight teeth are easier to clean and maintain so that patients can expect not only a visually pleasing smile but excellent oral health as well.
Get the smile you have always wanted this 2020 by taking advantage of Invisalign in St. Augustine, FL! Call or visit us at Salt Run Family Dentistry to get started with the treatment.