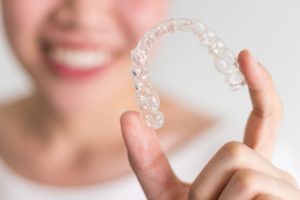 Clear aligners are the perfect orthodontic option for adults who don't want to worry about the appearance of brackets or wires when fixing bite and alignment problems. While they are visible when holding them, the aligners are virtually undetectable. You can enjoy a discreet method to improve your smile; however, your aligners can discolor if you aren't careful. Caring for your aligners is vital to maintaining their transparency, but it's also essential to prevent unnecessary complications, like decay. Thankfully, you won't have any metal wires or brackets to clean around. Here are 6 simple tips to keep your aligners clean.
1. Remove your aligners when eating.
Although your aligners are durable, they can't withstand the pressure of chewing. Not to mention, the foods and drinks you consume can stain them. Your dentist will instruct you to remove your aligners when having anything except water. Don't forget to brush and floss your teeth after eating to remove food particles and bacteria that can get trapped between the aligners and your enamel.
2. Clean your aligners regularly.
Plaque can build on your aligners throughout the day. A quick rinse under water isn't enough to remove it. It's best to clean your aligners at least twice per day. Besides brushing and flossing, take time to clean the aligners using a soft-bristled toothbrush and clear hand soap or dishwashing liquid. Rinse them with cool or warm water. Never use hot or boiling water, which can warp your aligners.
3. Stay hydrated.
Your mouth and body both rely on drinking plenty of water to stay hydrated. However, combating dehydration is more important than ever when wearing aligners. Not only does it help keep your mouth clean in between brushing and flossing, but it also reduces bacteria growth.
4. Change your aligners on time.
Each aligner is only intended for short-term use. Wearing your aligners longer than you should can lead to discoloration and time delays in your treatment plan.
5. Clean your storage case.
Your storage case is dark and moist, which is a great place for bacteria to grow and transfer to your aligners. Don't forget to clean your storage case daily and leave the lid open to allow it to air dry.
6. Maintain regular dental appointments.
Although you'll visit your dentist every few weeks to monitor your treatment progress, you must still have a cleaning and checkup every 6 months. Routine appointments will lessen your risk of preventable issues, like tooth decay and gum disease. You'll keep your teeth and gums healthy to ensure your smile looks its best after completing your orthodontic treatment.
With a commitment to your aligners, you can feel confident they will remain discreet. You will look and feel your best while achieving the smile of your dreams.
About Dr. Mickey Leth
Dr. Leth earned his dental degree from the University of Florida and achieved Fellowship with the Academy of General Dentistry. He has also completed continuing education in advanced services, like dental implants and orthodontics. If you are interested in clear aligners, contact our office today to request your consultation.