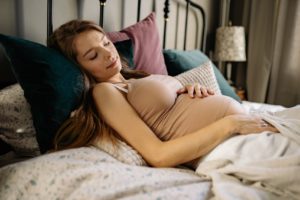 Nothing is more exciting than waiting for the arrival of your little bundle of joy. You want to look and feel your best as you enter the next chapter in your life. If you've lost a tooth or two over the years, the last thing you want is gaps in your smile to be the focal point of family pictures. While dental implants are the next best thing to your real teeth, you might have to wait until after your delivery to complete your smile. Here's what you need to know about getting dental implants during pregnancy.
Dental Work During Pregnancy
There's a lot of misinformation about the benefits and risks of having dental work while pregnant. The American College of Obstetricians and Gynecologists and the American Dental Association encourage expectant mothers to have regular cleanings and checkups. While preventive services are safe, they recommend waiting until the second trimester to have any dental work, like crowns or fillings.
While certain dental procedures are safe, many dentists won't perform procedures that require anesthesia. Local numbing agents can be used during pregnancy; however, sedatives and anesthetics can have adverse complications for both mother and baby. As a result, most dentists won't perform dental implant surgery until after the delivery.
Replacing a tooth with a dental implant requires surgery to place a titanium post in the jawbone. It will serve as a new root to support a restoration, which is attached using an abutment.
Although you can't undergo your implant surgery for a few more months, you can get the process started now. Treating a tooth with a dental implant requires a multi-step plan that can take many months to complete.
Completing Your Smile During Pregnancy
You can save time after your baby arrives by getting the ball rolling. Here are a few steps you can take to get your smile ready:
Schedule Your Consultation
Dental implants are recommended for patients with good oral and general health; however, you will need a consultation with your dentist to ensure they are right for you. They'll examine your smile to look for any untreated oral health issues, like tooth decay and gum disease. They will also review a CT scan on your mouth to ensure your jawbone can support dental implants. Your dentist can then create a personalized strategy to restore your smile after you've given birth.
Preparatory Procedures
It isn't uncommon to need a little prep work before your placement surgery, like a cleaning, filling, or gum disease treatment. Once you've reached your second trimester, your dentist can ensure your smile is healthy and ready to go.
In no time at all, the arrival of your new child won't be the only reason to smile.
About Dr. Leth
Dr. Leth earned his dental degree from the University of Florida and achieved Fellowship with the Academy of General Dentistry. He also has a Mastership with the International Dental Association. If you're ready to replace your missing teeth, contact our office today to request your consultation for dental implants.