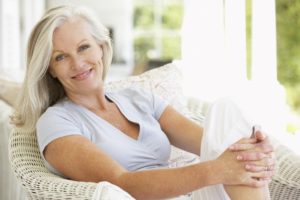 If you have lost a tooth or two over the years, you are not alone. Despite the latest innovations in dentistry, 120 million Americans have lost at least one tooth. A dental implant is the most successful method of replacing a missing tooth with over a 95% success rate. It is unlike any other treatment because it recreates both the root and crown. A titanium post is surgically placed into the jaw to mimic a root. If you've been diagnosed with rheumatoid arthritis, you may not believe you are a candidate for the procedure, but this may not be true. Here's what you need to know about dental implants and rheumatoid arthritis.
Understanding Rheumatoid Arthritis
Rheumatoid arthritis (RA) is a chronic disease that causes painful, swollen joints. The autoimmune disease attacks healthy cells, causing stiff joints, pain, warmth, and swelling. Some patients also experience fever and fatigue. Although there isn't a cure, it can be managed with medications and lifestyle changes. While RA affects the joints, many people with the condition are still candidates for dental implants; however, every situation differs.
Dental Implants and Rheumatoid Arthritis
A dental implant can last for 30 years or more. Typically, good oral and general health are all that's needed to benefit from the procedure. Besides adequate bone density, the long-term success of dental implants relies on your oral hygiene. A leading cause of dental implant failure is from an infection called peri-implantitis. The preventable infection is like gum disease, which can destroy the supporting structures for your dental implants.
Since RA can affect your mobility, your candidacy for dental implants will depend on how well you can brush and floss your teeth. If RA affects your hands, it can be difficult to hold a toothbrush or use dental floss, making you more likely to experience dental implant failure.
Besides brushing and flossing, the medications you are taking can also affect your candidacy for the treatment. RA is an autoimmune disorder, which means common medications used to treat it suppress the immune system. As a result, this can affect your ability to heal and fight infections. In some cases, long-term use of specific medications can lead to bone loss, which means a dental implant may not have enough support to thrive.
Am I a Candidate for Dental Implants?
Various factors are considered when determining if dental implants are right for you. The only way to know for sure is by scheduling a consultation with your dentist. They'll examine your mouth and review diagnostic images of your oral structures to look for any concerns. Your dentist will also review your medications to ensure there are minimal risks of complications. With a personalized treatment plan, they will help you enjoy a complete smile again.
About Dr. Mickey Leth
Dr. Leth has over 20 years of experience in dentistry. After earning his dental degree, he has regularly continued his education to provide advanced services, like dental implants. If you are ready to replace your missing teeth, contact our office today to request your consultation.