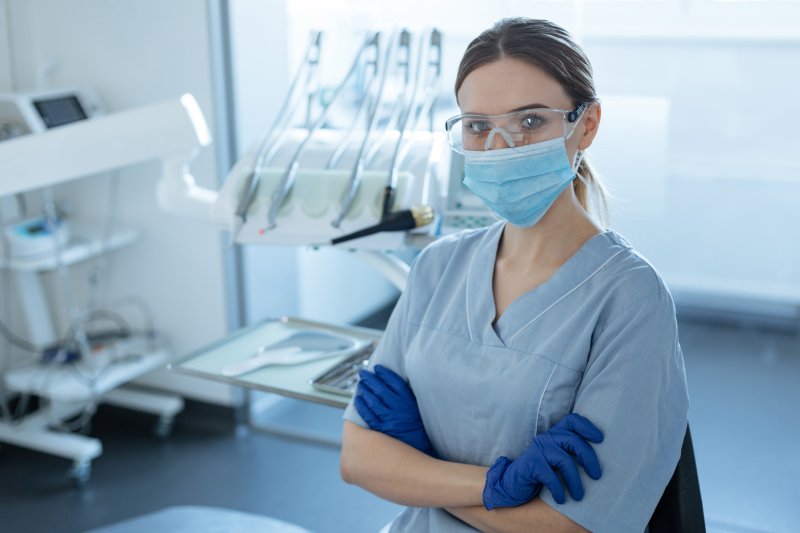 A few months into 2020, our world was forever changed. Seemingly overnight, face coverings were required, social distancing guidelines were in place, and stay-at-home orders were in full effect. While these infection control measures have played a crucial role in limiting the spread, the fight against the novel COVID-19 virus is not yet over. Therefore, dental teams across the U.S. are using their resources, time, and skill to keep you safe during your next visit. An emergency dentist shares four dental safety measures you can expect at your appointment.
Extensive Sanitation Measures
Even before COVID-19, your dental team followed sanitation measures put forth by the Centers for Disease Control and Prevention (CDC) and the Occupational Health and Safety Administration (OHSA). However, in light of the current pandemic, they are implementing additional sanitation measures to follow proper infection control protocols and prevent cross-contamination. Therefore, your dental team will be implementing the below procedures at your next visit:
Asking patients to use an anti-microbial rinse before their appointment.
Placing hospital-grade hand sanitizing stations throughout their office.
Cleaning after each patient's visit.
Conducting a deep cleaning each evening.
Using CDC-approved instrument sterilization.
Utilizing advanced chairside suction.
Introducing HEPA air filtration.
Additional Personal Protective Equipment
Pre-pandemic, your dentist would put on a fresh set of gloves and a face mask before your appointment. However, the CDC and OHSA are both recommending that dental teams wear additional personal protective equipment to prevent the potential transmission of germs, bacteria, and viruses. Therefore, don't be surprised to see the office staff wearing face masks and your dental team using disposable coats.
Contactless Greetings
Before 2020, you probably wouldn't have thought twice about greeting your dental team with a warm handshake or friendly hug. However, to reduce the potential transmission of this contagious virus, dental teams are opting for no-contact greetings during the pandemic. So, use an air high-five or an enthusiastic wave in the meantime.
Advanced Staff Training
For years, dental teams have undergone intensive training and education to painstakingly follow the sanitation measures needed to create a safe, sterile environment. To continue to provide their patients with the highest level of care, dentists and their teams are undergoing advanced staff training to enhance their knowledge and preparedness. Plus, they are assigning one member of the staff each day to be the safety champion. In this role, they will be responsible for answering patients' questions, enforcing sanitation measures, and overall monitoring of the office.
As the world continues to battle COVID-19, it can be difficult to know which activities are considered safe or dangerous. Fortunately, you can have peace-of-mind at your dental appointment knowing the extensive measures they are taking to take care of your smile and ensure your safety!
About the Practice
Have you ever felt dread or downright fear over your dental appointment? Salt Run Family Dentistry is built on the antithesis of that! With a fun, friendly staff and a comprehensive array of services, Dr. Mickey Leth, Dr. Bert Tavary, and Dr. Sabrina Wall are dedicated to providing you with an experience that genuinely makes you look forward to your visit. If you would like additional information on how they are keeping their patients safe during COVID-19, don't hesitate to visit their website or give them a call at 904-824-3540.