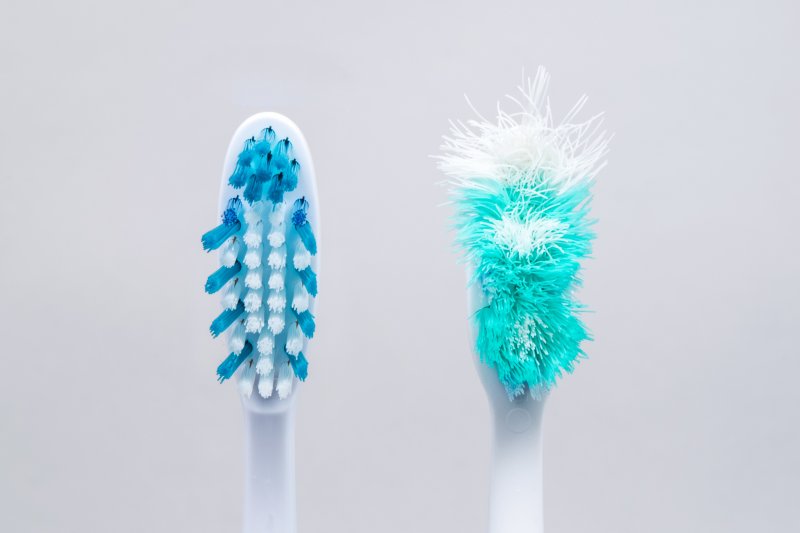 You know that brushing your teeth twice a day is essential for optimal oral health, but do you know when the last time was that you got a new toothbrush? They don't last forever and if you want to best oral health possible, it's crucial that you have all of the right tools. But why is it so important that you are replacing your toothbrush on a regular basis? How often should you be investing in a new one? Read on to learn more about the lifespan of your toothbrush and what you can do for the best possible preventive care.
How Often Should You Replace Your Manual Toothbrush?
According to the Centers for Disease Control and Prevention (CDC), you should be switching your manual toothbrush out approximately every 3-4 months if not sooner! This is because after you use your toothbrush for some time, the bristles begin to lose their stiffness and become less effective at cleaning away plaque, food debris, and bacteria that builds up on your teeth. If you or someone in your household is sick, it is a good idea to switch out your toothbrushes. This is especially the case if the illness is a viral or bacterial infection, like strep throat.
How Often Should You Get a New Head for Your Electric Toothbrush?
It is recommended that you replace the head of your electric toothbrush every 12 weeks. Just like manual toothbrushes, the heads of electric toothbrushes become worn over time. The difference is that the bristles on electric toothbrush heads tend to be shorter. This makes the bristles become worn in even less time than their manual counterparts. You may even need to replace it sooner. Keep an eye on the bristles in order to decide when the right time is.
How Can You Increase the Life of Your Toothbrush?
To get the most out of your toothbrush, remember the following:
Every time you brush your teeth, you should give your brush a quick rinse underneath the running tap water. There is no need to use any disinfectants or mouthwash to sanitize it after using.
Do not keep your brush in a closed container. This can encourage the growth of mold and bacteria.
Avoid allowing the head of your toothbrush to come into contact with the head of another toothbrush. It is best to store them separately in different cups.
Never share a toothbrush with someone else, even if it is a close family member or significant other.
For optimal oral health, you need to ensure that you are using the proper tools. An old, worn toothbrush certainly isn't one of them! Follow these tips to make sure you are replacing your toothbrush when necessary and making the most out of it.
About the Author
Dr. Mickey Leth is a well experienced dentist in St. Augustine who has been working in the field for over two decades. He earned his Doctor of Dental Medicine from the University of Florida and is proud to hold a Fellowship with the Academy of General Dentistry. Dr Leth has completed hundreds of hours of continuing education in a variety of specialties. For more information on how to best take care of your smile or to schedule an appointment, visit his website or call (904) 824-3540.