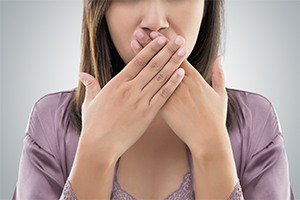 Bad breath does not only negatively impact your life but also affects those who are around you. This can isolate you and make you feel self-conscious, that is if you're aware of it. Your friends and colleagues might keep their distance from you if your bad breath is a chronic concern. You may never even realize how much this condition impacts your relationships and opportunities in life. 
However, knowing more about this condition gives you an advantage. For that reason, Salt Run Family Dentistry will arm you with the important facts you need to know about bad breath. Read on to know what these facts are. 
The food that goes through your system might be the reason why you have bad breath
If you had a meal with a healthy serving of garlic and onions, there is a high chance that bad breath won't leave for a while despite brushing and flossing. This is caused by digesting the sulfuric compounds in the onion or the allicin in garlic. Your body will breakdown these compounds and will travel through your bloodstream and remain in your body for days. They will then go through the blood to be excreted through the lungs, kidney, and skin. Remind yourself that this is only temporary and that garlic and onions are healthy for your body. 
Smoking is terrible for your breath
This fact is most likely the least surprising one because everyone knows that smoking changes the mouth. When you smoke, you introduce all the chemicals from the tobacco to your mouth. The majority of these chemicals dry your mouth and encourage the growth of the 'wrong' bacteria type. On top of this, it can also damage your mouth tissue and lead to infection and diseases like cancer.
Saliva reduces your bad breath
When you are properly hydrated, you produce a healthy amount of saliva, preventing unwanted bacteria from moving in because saliva continuously cleans the mouth. Aside from that, it clears food particles inside your mouth and keeps your tongue clean.
Gain confidence in your smile by availing of Halitosis Treatment in St. Augustine, FL. Here at Salt Run Family Dentistry, you can rest assured that you are getting the high-quality treatment you deserve. You can find us at 700 Anastasia Blvd, St. Augustine, FL 32080.