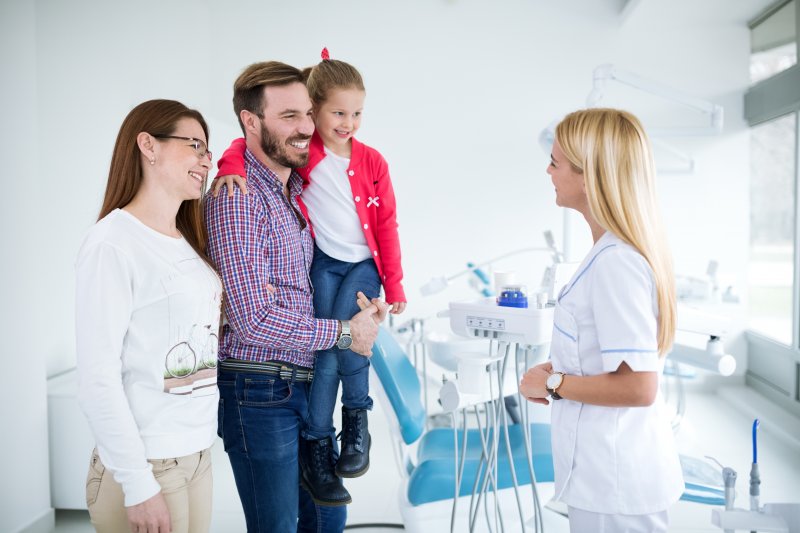 Each member of your family has a unique smile, so it's natural to initially opt for a different dentist for each person. However, after a few months of driving across town to different practices for routine checkups, braces appointments, and other dental treatments, you may be seriously reconsidering that decision. Fortunately, you can simplify your life without sacrificing quality care with a family dentist! If you haven't made the switch yet, here are three reasons you should!
#1. Streamline Your Dental Care
Routine cleanings every six months aren't too difficult to coordinate. However, when you add cosmetic treatments, restorative services, and emergency dental appointments into the mix, your dental schedule can become overwhelming. Luckily, a family dentist can streamline your dental care by providing a comprehensive array of services at one convenient location. So, whether an older member of your household needs dental implants, your teen wants Invisalign, or your little one needs a tooth extracted, they are ready to help!
#2. It's Easier to Track Your Dental History
Switching to a different dental provider can be tricky, and it's easy for something to fall through the cracks if you are conducting the process for each member of your household. Fortunately, establishing a relationship with a family dentist will keep your dental history and chart in one secure location. This will lead to a seamless dental experience while simultaneously providing your dental team with a big picture perspective on your family's oral health!
#3. Prevent Dental Phobia from Developing
Did you know roughly 20% of school-aged children are scared of the dentist? Unfortunately, the numbers continue to skyrocket as almost 50% of adults experience dental anxiety. One of the best ways to protect your child from becoming a part of these statistics is by starting routine trips at a young age. That way, by the time it's their turn to get into the treatment chair, their dentist is more a member of the family than a stranger!
If coordinating your family's dental schedule is giving you a headache, there is no time like the present to make the switch! Not only will you clear your calendar, but you will do so without compromising the high-quality dentistry you deserve.
About the Practice
At Salt Run Family Dentistry, the latest technology, high-quality services, and a world-class team come together to provide patients with a truly exceptional dental experience. From routine cleanings and restorative treatments to smile upgrades and children's dentistry, Dr. Mickey Leth, Dr. Bert Tavary, and Dr. Sabrina Wall are ready to help each member of your family achieve a beautiful smile and immaculate oral health. If you are interested in switching to a family dentist, visit their website or give them a call at 904-824-3540.