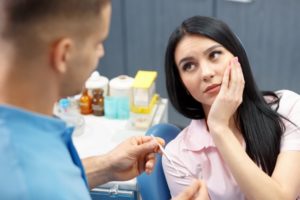 If you had your routine dental checkup scheduled back in March or April, you most likely had to reschedule it for another day. At the start of the COVID-19 lockdown, most dentists were only open for patients with emergencies. During that time, however, they saw an increasing number of patients with oral health problems like cracked teeth, jaw pain, and sensitivity. Why has dental damage become more common during the pandemic? And what can you do to protect your smile? Keep reading below to find out.
What's Causing All of These Dental Health Problems?
The most obvious answer is chronic teeth grinding and jaw clenching, also known as bruxism. Hearing the constant negative news updates about the pandemic can really stress you out, which often manifests as teeth grinding. This pressure can wear down your tooth enamel, leading to sensitivity, fractures, an achy jaw, and more. While bruxism usually occurs while you're sleeping, it can also happen during the day.
Another reason for the surge in dental trauma might be due to working from home. Instead of sitting at a proper desk, many people have assembled makeshift workstations in places like the couch or the kitchen counter. Awkward body positions can ensue, causing you to hunch your shoulders forward and curve your spine. Your shoulder and neck nerves connect to your temporomandibular joint (TMJ) which connects your jaw to the rest of your skull. Poor posture can then contribute to a teeth grinding habit.
How Can You Keep Your Smile Healthy During Quarantine?
To stop grinding your teeth, you first have to be aware that you grind your teeth. It can often happen without your consciously realizing it. For example, are your top and bottom teeth touching right now? If so, you're probably doing damage. Generally, your teeth should only touch when you're actively chewing your food.
You can also reduce grinding by improving your workstation and your posture. When sitting, your ears should be over your shoulders, which should be over your hips. If your computer monitor isn't at eye level, prop it up with a box or stack of books.
While stress reduction exercises like meditation can certainly help, so can seeing your dentist. To reduce the damage from bruxism, they can create a personalized nightguard. This comfortable plastic tray provides cushioning between your upper and lower teeth, absorbing the pressure.
If your dental checkup got canceled in the early days of the pandemic, call and book a new one as soon as you can. That way, your dentist can spot problems, like slightly cracked teeth, before they worsen and require major restorative treatments. With most dentists back open for routine preventive care, so you have no excuse to not keep your mouth as healthy as possible!
About the Practice
At Salt Run Family Dentistry, we provide a variety of services to meet the dental health needs of the St. Augustine, FL community. Dr. Leth, Dr. Tavary, and Dr. Wall each bring their own unique skillset to our practice. In addition to offering custom-made nightguards for bruxism, we work to see emergency patients as soon as we can. If you're experiencing an urgent dental problem, such as cracked teeth, contact us at 904-824-3540.